Portes, un hommage à Douglas Adams, ses œuvres, sa ville et ses tiroirs

☆ Free (review & community) copies are available! / Des exemplaires gratuits sont disponibles en bas de page !


Portes

: Joyeux jour de la serviette !


Pour une utilisation optimale de ce document, merci de vous munir d'un dé à 32 faces, d'un jeu de cartes standard de 32 cartes ou bien d'imprimer les cartes fournies.

Participation à la Towel Day Jam (Jour de la Serviette), en hommage aux œuvres de Douglas Adams. Texte et illustrations sous CC-BY-NC.


–

Doors

: Happy Towel Day!

In order to optimally use this document, please bring a 32 sided die or a standard 32 card deck or print the included cards.

Submission to the Towel Day Jam, tribute to Douglas Adams' work. Text & illustrations released under CC-BY-NC license.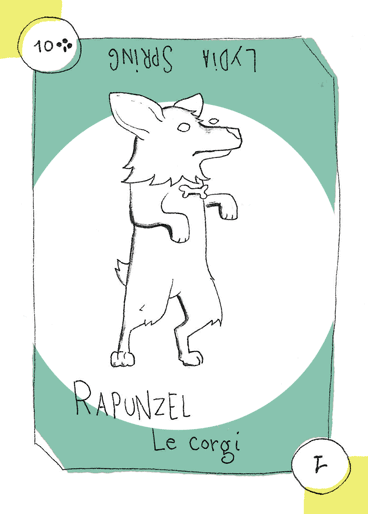 Purchase
In order to download this tribute you must purchase it at or above the minimum price of $4.20 USD. You will get access to the following files:
PORTES__cartes_version-ecran.pdf
2 MB
PORTES__cartes_impressionA4.pdf
5 MB
DOORS__cards_printerfriendlyA4.pdf
5 MB
AngelaQuidam-illustrations-Portes_CC-BY-NC.zip
24 MB
Free copies ★
Support this tribute at or above a special price point to receive something exclusive.
review copies
[en] Curious and want to take a look? Claim a free review copy. I trust you to fulfil the only "condition": give me your review, constructive criticism, rating, suggestions... Write your review in the comments section, rate the game with an explanation of your rating, or send me the link to the website where you reviewed my game. Thank you! Constructive reviews are important for designers, please take the time to review the games you read or play.
[fr] Curieux·se, tu veux jeter un œil? Télécharge un exemplaire gratuit. Je te fais confiance pour remplir la seule "condition": fais-moi un retour, écris une critique constructive, note le jeu, dis-moi tes suggestions... Écris dans les commentaires, évalue le jeu en expliquant ta note, ou envoie-moi le lien vers le site où se trouve ta critique. Merci! Les retours sont importants pour les designers, prends le temps de faire des retours pour les jeux que tu lis ou auxquels tu joues. ☺

community copies
[en] If you're marginalized or facing financial difficulty, please feel free to claim a free copy. Copies are limited but will grow bc I'll add another community copy for each purchased game.
[fr] Si vous ne pouvez pas acheter ce jeu, pour des raisons financières par exemple, n'hésitez pas à télécharger un des exemplaires gratuits. Un «exemplaire communautaire» supplémentaire sera ajouté au stock pour chaque jeu acheté.